We're recording vocals for the first 7" now. Three songs, for release on High Anxiety (Chris from Cursed's label). Another 7" will follow on Deer Healer, and we have basic tracks for a few songs for the LP. If we're lucky that will be done by the end of winter. Loud stuff is being recorded down in Toledo with JC at Bottom of the Lake, vocals are being done up here with Clifton at Blackfeather. Its kind of funny having three guys from Earthmover working together again, mostly we just say filthy stuff, tell ridiculous stories and play with guns.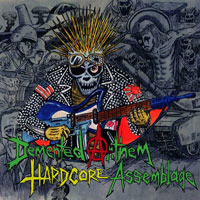 The Demented Anthem Hardcore Assemblage comp will be out on CD September 1st, we'll have copies and I'll have some in the Burai Core distro. Vinyl to follow, hopefully.
NIGHTMARE(大阪)、CROSSFACE(東京)、WORMS MEAT(東京)、AFTER THE BOMBS(カナダ)、 BLUDWULF(ニューヨーク)、三日月爆音団(浦和)、NIGHTBRINGER(アメリカ)、悪AI意 (北九州)、WARCRY(ポートランド)、CRUDE(函館)、WORLD BURNS TO DEATH(テキサス)、KRIEGSHOG(東京)、NO VALUE(東京)、TOLAR(テキサス)、DOOMSDAY HOUR(カナダ)、九狼吽(名古屋)、NO PROBLEM(東京)、INEPSY(カナダ)、JHABARA(東京)、THE DISKONECTED(カナダ)、ORIGIN OF [M](廣島)、AGGRESSION (高知)、ONEDAY(富山)、SEVERED HEAD OF STATE(テキサス)、DESTROYED NATURAL BEAST(盛岡)、UNIT 21(テキサス)
You should be able to download the radio session here, its basically "the Len demo" as the only recording with the current line up. If you can't download it, then I fucked up, you can at least listen to it. http://www.myspace.com/keepupthefight
Playing for free at the Garden Bowl friday. Should be a blast.